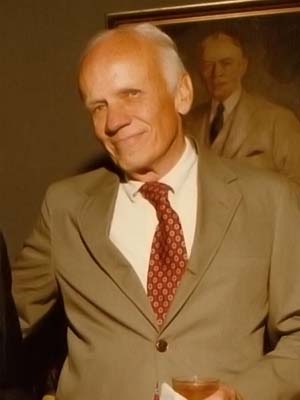 "You can get all A's and still flunk life."
Born in Birmingham in 1916, Walker Percy's early life was sadly Southern Gothic. Before his birth in 1916, Percy's grandfather committed suicide, as did his father in 1929. Two years later, his mother drove off a bridge, and Percy always considered her accident another family suicide. William ("Will") Alexander Percy, a 45-year-old cousin in Greenville, agreed to adopt the orphaned Walker and his two brothers.
Life with "Uncle Will," a lawyer and writer, was both a refuge and a window into another world. Will Percy decorated his home with souvenirs from global excursions: Persian vases, Moroccan rugs, Japanese art, and Mexican wood screens. The attic contained Will Percy's loot of treasures from his service in World War I: German helmets, rifles and bayonets, uniforms and canteens. Most importantly, Will Percy opened his home to an impressive parade of houseguests, including Dorothy Parker and Langston Hughes. He also introduced his young cousin Walker to a young Shelby Foote. The two future writers developed a lifelong friendship.
Following college, Percy earned a medical degree from Columbia. He contracted tuberculosis while performing an autopsy, and the convalescence would become a pivotal period of his life. He read fervently and questioned humanity's purpose. Subsequently, he converted to Catholicism. He continued to write, as he had done for journals in college. In 1961, he published The Moviegoer, his first novel. The following year The Moviegoer received the National Book Award for Fiction. Percy continued to write fiction, nonfiction, and essays, many dealing with human struggles with identity, spirituality, and behaviorism. Percy died of cancer in 1990, and his popularity remains as strong today as in his lifetime.
Donations to the Southern Literary Trail assist with developing and promoting exhibits and other educational programs which are free to the public. Donations are tax deductible.