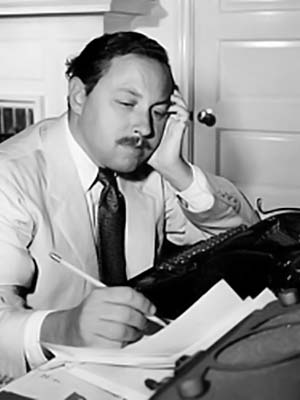 "Home is where you hang your childhood, and Mississippi to me is the beauty spot of creation."
Thomas Lanier "Tennessee" Williams was born in Columbus, Mississippi on March 26, 1911. Among his ancestors was Georgia poet Sidney Lanier. His family ties were strong, particularly to his maternal grandfather The Reverend Walter Dakin, and to his older sister Rose, who was tragically diagnosed with schizophrenia. His father, however, was a somewhat distant figure who never understood his sensitive son. The stability of his grandfather and small town way of life in Columbus and later Clarksdale gave the young Tom Williams a love of Mississippi that lasted throughout his life.
Writing allowed the perceptive Williams an outlet in which to explore the mores of Southern life and the eccentricities and complexities of his own family. As a student and while working small jobs after college, he wrote short stories, essays, and plays, with writing his means of escaping a life he found mundane. In 1944, his play The Glass Menagerie premiered, and his career skyrocketed. Elements of the play drew heavily from Williams's own life. Williams wrote the play with the main character narrating it from the perspective of the character's memory, a style which Williams called "memory play." The Glass Menagerie was followed by such phenomenally successful works as A Streetcar Named Desire and Cat on a Hot Tin Roof, both of which received Pulitzers.
Williams wrote throughout his life but subsequent works never achieved the high acclaim of his earlier works. "Everyone wants me to write another 'Streetcar'" he once quipped. On February 25, 1983, Williams was found dead in his hotel suite in New York, having choked on the cap of medicinal spray. He remains among the greatest American playwrights.
Donations to the Southern Literary Trail assist with developing and promoting exhibits and other educational programs which are free to the public. Donations are tax deductible.