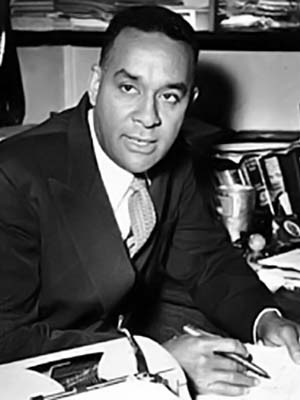 "The artist must bow to the monster of his own imagination."
Richard Wright was born on Rucker Plantation, just a few miles from Natchez, Mississippi, on September 4, 1908. He was the grandson of a slave and the son of a sharecropper. His father abandoned the family when Wright was young and part of his childhood was spent with his grandmother in Jackson, Mississippi.
Writing was an escape from his turbulent young life. He wrote his first story, The Voodoo of Hell's Half-Acre when he was only fifteen. It was published by The Southern Register, a Mississippi newspaper for African-Americans. Wright's strict grandmother disapproved of his writing, which seemed to only intensify his drive. Wright eventually moved to Chicago and New York, where he formed a friendship with Ralph Ellison. He achieved acclaim with his works Uncle Tom's Children, published in 1938 and Native Son, published in 1940. Native Son was the first book by an African-American writer chosen as a selection by the Book of the Month Club. In 1941, Native Son was adapted for Broadway, with the play being directed by Orson Welles.
In 1946, Wright moved to Paris where he died in 1960. Wright's crematory urn contained the ashes of a copy of Black Boy, the 1945 book that expressed his "vague sense of the infinite" stirred on the river bluffs of Natchez. The house where Wright lived in his early childhood bears a historical marker. The highway that leads into Natchez, an origination point for the Natchez Trace Parkway, is named in honor of Wright.
Donations to the Southern Literary Trail assist with developing and promoting exhibits and other educational programs which are free to the public. Donations are tax deductible.