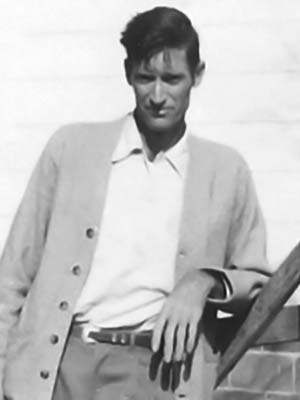 "From chips and shards, in idle times, I made these stories, shaped these rhymes."
Byron Herbert Reece was a hill and bottomland farmer who cultivated words and harvested poetry. From his labor on a farm in North Georgia, the poet and novelist became the voice of Appalachia. For readers of 20th century Southern literature, Reece is Appalachia's soul.
Reece was born on September 14, 1917, to a farming family that had been in the area of Blood Mountain, Georgia for more than a century. Farming was hard in the mountains of North Georgia, but Reese never lost his devotion to the land. A voracious reader, he had read the Bible by the time he was in first grade. He began writing poetry at an early age, with his works published in the local newspaper.
Ties to the soil, nature, religion, and family shaped his poems and novels. His work Bow Down in Jericho, published in 1950, earned a Pulitzer Prize nomination. Reece taught at Young Harris College, which he briefly attended, and was writer-in-residence at Emory and UCLA.
Reece contracted tuberculosis while caring for his parents who suffered with the disease. He tragically died of suicide on June 3, 1958. Today, the Byron Herbert Reece Farm and Heritage Center in Blairsville, Georgia serves as an educational center on the writer and the land that inspired him.
Donations to the Southern Literary Trail assist with developing and promoting exhibits and other educational programs which are free to the public. Donations are tax deductible.