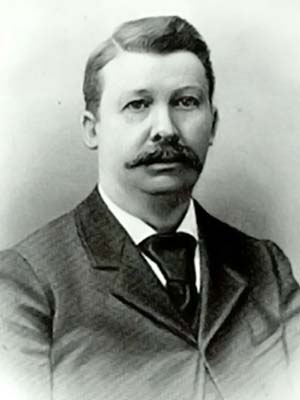 "Watch out when you're getting all you want. Fattenings hogs ain't in luck."
Journalist, essayist, and folklorist Joel Chandler Harris was born in Eatonton, Georgia in 1845. With a talent for writing and love of books instilled in him by his mother, the young Harris became an apprentice for a plantation newspaper, The Countryman. The owner, Joseph Addison Turner, was passionate about literature and took an interest in the precocious young Harris.
In later years, inspired by the story-telling tradition of African-Americans, he wrote animal tales in dialect. At the time of Harris's death in 1908, only Mark Twain surpassed him in popularity as an American writer. Harris's first compilation of stories has never been out of print, and his work has been translated into over thirty languages. While writing for The Atlanta Constitution, Harris became a voice for what editor Henry Grady termed "The New South," advocating social and economic reconciliation between the races.
While his work became a source of debate in the late 20th century, it has now come to be acknowledged for its preservation of folk tales and lessons in the triumph of the human spirit. His Atlanta home, The Wren's Nest, became an historic house museum in 1913 with the support of Theodore Roosevelt and Andrew Carnegie. Today, The Wren's Nest serves as a center for education and literacy.
Donations to the Southern Literary Trail assist with developing and promoting exhibits and other educational programs which are free to the public. Donations are tax deductible.